Art Loeb Trek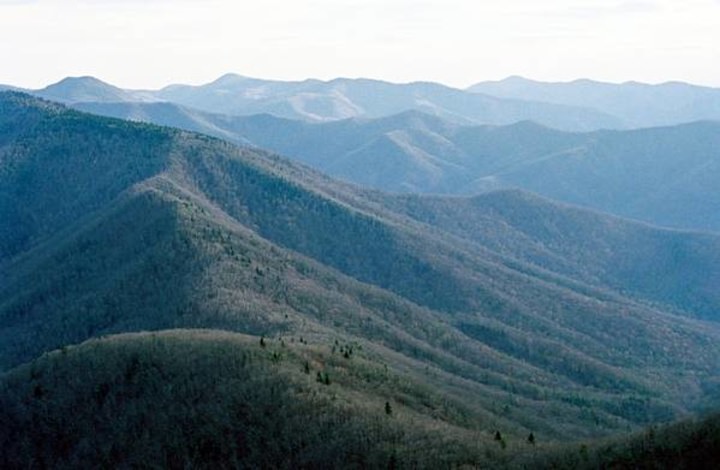 This trek requires VERY GOOD physical conditioning for EVERY participant. The Art Loeb trek is a four-day loop trip including a portion of the Art Loeb Trail through Pisgah National Forest and Shining Rock Wilderness.
The Cold Mountain/ Art Loeb trek is a four day hike through Pisgah National Forest and Shining Rock Wilderness along the Art Loeb Trail. The trail is famous for its rugged climbs and pristine views from atop the Eastern United States. It runs from the Davidson River across several landmark area peaks around the southern rim of the Davidson River valley. It crosses Pilot Mountain on the northern end of this dividing ridge, before climbing steeply to the Blue Ridge Parkway and Silvermine Bald, where it tops 6000' in elevation. Next, the trail crosses Black Balsam Knob where there is a plaque commemorating Art Loeb and the Trail. This is the most famous and most popular section of the trail, for good reason. The views and uniqueness of this section of trail are second to none!
Finally, it travels across the mountain balds and through the Shining Rock Wilderness past Shining Rock itself. Near Cold Mountain the trail climbs into "The Narrows" and rugged ridgeline which slowly gets smaller and smaller with memorable views to the north and south. A side trip will take you to the summit of Cold Mountain, before descending steeply to end at Camp Daniel Boone.
This trail is a memorial to Art Loeb, a man who deeply loved these mountains. This trail was ranked as the #2 trail in America for high alpine views in the April 2007 Backpacker Magazine. On Friday the group has the option of rafting the Nantahala River.
Crew Size 9 Total